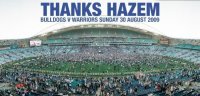 dylan napier
...
Name:

dylan napier

Sporting Interests:

Rugby League - Bulldogs

Other Interests
Music: What music do you like to listen to?
Film: What films and film stars do you like?
TV: What do you watch on TV?
Books: What books do you like to read?
General: What other interests do you have?