Season Statistics
PPG


RPG


APG


FG%

Player Profile
Hanna Zavecz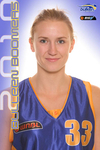 PERSONAL:
DOB 21/08/1985; Height: 183cm
POSITION: Guard/Forward
JUNIOR ASSOCIATION: Wangaratta (VIC)
FIRST PLAYED WNBL: 2002/03
WNBL CLUBS: AIS 2001/02-2003/04, Bendigo 2008/09, Bulleen 2009/10 - Current
WNBL CAREER NOTES: In the 2009/10 season, Hanna was ranked 5th in the league in blocked shots (1.2 per game) and 6th in field goal percentage (49.7%) she also averaged 10.1 points, 6 rebounds, 2.1 assists and 1.2 steals per game. In two finals appearances Hanna averaged 1.5 points, 4.5 rebounds, 1.5 steals, 1 assist and 0.5 blocks. She won the Most Improved Award for Bulleen after an outstanding season... In 2008/09 Hanna returned to the WNBL after a successful college career in the USA...After recovering from a back injury she played in 17 games for Bendigo to tally 112 points and 80 rebounds at an average of 6.6 points and 4.7 rebounds...In the 2003/04 season she averaged 9.1 points and 3.6 rebounds. She made her WNBL debut in the 2002/03 season for the AIS for averages of 2.2 points and 1.4 rebounds.
GENERAL BASKETBALL CAREER NOTES: Hanna has represented Victoria Country at National Championships in the U16, U18 and U20 teams. In 2001 she was team captain of the U16 team and helped lead the U20 team to a gold medal in 2003. She achieved three-time junior all-Australian camp selection. Hanna has been playing for University of Wyoming USA from 2004-2008 and started in all 30 games for the Cowgirls - Wyoming and scored a team leading 13.9 points, 6.1 rebounds, 3.6 assists, 1.6 steals and 1.6 blocks per game. Hanna was named in her first Opals squad following the 2009/10 WNBL season and made her Opals debut on tour in China. When not on national team duties in 2010, Hanna played for the Kilsyth Cobras in SEABL.
PERSONAL INFORMATION: Hanna has two older brothers Tom and Christian. Hanna is majoring in human nutrition and food.
Season Statistics
Season
Career
Previous Seasons

Competition
Season
M
MIN
2PM-A
1st Half H.S
3PM-A
3PT
%
FTM-A
FT %
PF
Total Pts
TOT
AST
PTS
2010/11
2011
22
30/01/2011
- - -
0.0
54 - 8
46
- - AIS
85.2
5.8
2009/10
2010
24
03/10/2009
- - -
0.0
65 - 38
48
- - Canberra
73.8
5.8
2008/09
2009
17
16/01/2009
- - -
0.0
30 - 32
20
- - Bulleen
66.7
4.7
2003/04
2004
17
08/11/2003
- - -
0.0
49 - 37
31
- - Bulleen
63.3
3.6
2002/03
2003
18
15/11/2002
- - -
0.0
12 - 10
5
- - Bulleen
41.7
1.4