Season Statistics
PPG


RPG


APG
5.1
FG%

Player Profile
Deanna Smith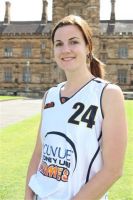 PERSONAL: DOB 24/12/1980; HEIGHT: 179cm
POSITION: Guard
JUNIOR ASSOCIATION: Bendigo, Warrnambool & Melbourne (VIC)
FIRST PLAYED WNBL: 199 AIS
WNBL CLUBS: AIS 1997-1998/99; Canberra Capitals 1999/00; Adelaide Lightning 2000/01-2003/04; Perth Lynx 2005/06; 2008/09; Sydney Uni Flames 2009/10; Bendigo Spirit 2011/12; West Coast Waves 2012/13
WNBL CHAMPIONSHIPS: AIS 1998/99; Canberra Capitals 1999/00
WNBL CAREER NOTES: Deanna joined the Bendigo Spirit for season 2011/12 after missing the entire 2010/11 season due to injury. She teamed up with Kristi Harrower to form a strong backcourt. In the 2009/10 season Deanna joined the Sydney Uni Flames and was named in the WNBL All-Star Five for the second consecutive season. Deanna claimed the runner-up spot for Sydney's MVP award and was named Player of the Week twice, averaging 16.1 points and reaching double figures in 18 of 22 games. Returning to the league with the Perth Lynx in 2008/09, after three seasons overseas, Deanna was named in the All-Star Five, was the second highest scorer in the league with 20.8 points per game, and won the award for Best Free Throw Shooting Percentage after averaging a phenomenal 89.7 per cent from the free throw line. Deanna also ranked in the top ten for steals, assists, offensive rebounds, and 3-pt shooting percentage.
INTERNATIONAL CAREER NOTES: 2010 Opals World Challenge; Australia 2009-10 Australian Opals squad member; 2005-07 Australian Opals squad member; 2002 South East Asian Games
GENERAL BASKETBALL NOTES: 2011 and 2012 Deanna played for the Geelong Supercats in the SEABL and was Player of the Week in Round 15; 2010 Deanna spent the off-season playing with the Kilsyth Cobras in the 2010 SEABL and was one of the leading scorers in the league. Deanna was selected in the 2009 Opals squad, making the team for tours to China and Europe. Her Basketball highlights are her first game for Australia and winning the AIS Grand Final. She has played basketball in England, Portugal (Portuguese Champions), Russia (Siberia) and Italy (Northern). She represented Australia in 2002 (South East Asian Games) and has been an Australian Opals Squad Member since 2005-2009. Deanna went to America and Korea with AIS. Deanna represented Country Victoria at U16 (1995), U18 (1996 & 1997) Australian Junior Championships and Victoria at U20 Australian Junior Championships. Vic Country was U18 Champions in 1996 & 1997 and Deanna was captain in 1997. She was All Australian in 1995, 1996 & 1997.
PERSONAL INFORMATION: Deanna's favourite basketball players are Penny Taylor, Lauren Jackson, Manu Ginobili, Magic Johnson and Steve Nash. Her favourite foods are ice cream, Allen's Lollies, Silverside and Fruit & Vegetables! Favourite Actors are Denzel Washington, Adam Sandler, Julia Roberts and Drew Barrymore. Music Preference is RnB, Old School Music and acoustic. For dinner she would invite Julia Gillard, Gordon Ramsay & Michael Jordan. Personal Interests include spending time with people she loves, going to the beach, going to the movies, meeting new people and seeing new places. Deanna ALWAYS wears odd socks and doesn't like pasta.
COACH'S COMMENT: We are very happy to have Doccy back in the west. Doccy is a very versatile player that can score in a number of ways and Deanna's defensive talents will also be called upon this season. Deanna's National team, WNBL and international experience will be a great asset to the program this season.
Season Statistics

2PT
3PT
FT
Rebounds
M
MIN
2PM-A
1st Half H.S
3PM-A
3PT
%
FTM-A
FT %
TOT
AST
PTS
Season
21
13/01/2012
82 - 170
48.2
87 - 72
76
- - Dandenong
5.1
Career
244
12/10/2008
- - -
0.0
656 - 659
543
- - Bendigo
3.8
Previous Seasons

Competition
Season
M
MIN
2PM-A
1st Half H.S
3PM-A
3PT
%
FTM-A
FT %
PF
Total Pts
TOT
AST
PTS
2012/13
2013
6
12/10/2012
29 - 62
46.8
11 - 16
9
- - Sydney
81.8
6.0
2011/12
2012
21
13/01/2012
82 - 170
48.2
87 - 72
76
- - Dandenong
87.4
5.1
2009/10
2010
24
23/01/2010
- - -
0.0
96 - 79
82
- - Canberra
85.4
5.8
2008/09
2009
17
12/10/2008
- - -
0.0
97 - 70
87
- - Bendigo
89.7
6.4
2005/06
2006
21
02/12/2005
- - -
0.0
83 - 96
69
- - Bulleen
83.1
5.7
2003/04
2004
1
- - -
0.0
- - -
- - -
0.0
0.0
2003/04
2004
21
13/12/2003
- - -
0.0
56 - 68
43
- - Bulleen
76.8
3.8
2002/03
2003
22
17/11/2002
- - -
0.0
60 - 68
50
- - Sydney
83.3
3.2
2001/02
2002
17
18/11/2001
- - -
0.0
27 - 43
25
- - Sydney
92.6
3.2
2000/01
2001
22
03/02/2001
- - -
0.0
59 - 71
44
- - West Coast
74.6
4.1
1999/00
2000
24
13/11/1999
- - -
0.0
46 - 39
32
- - Dandenong
69.6
2.3
1998/99
1999
23
16/10/1998
- - -
0.0
16 - 27
11
- - Bulleen
68.8
2.0
1998
1998
12
27/03/1998
- - -
0.0
17 - 6
15
- - Sydney
88.2
0.8
1997
1997
13
20/07/1997
- - -
0.0
1 - 4
- - Dandenong
0.0
1.0