Season Statistics
PPG


RPG


APG
5.5
FG%

Player Profile
Lauren King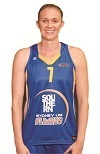 PERSONAL:

DOB:

01/06/1984;

HEIGHT:

181cm
POSITION:

Forward
JUNIOR ASSOCIATION: Ballina (NSW)
FIRST PLAYED WNBL: 2001/02 AIS
WNBL CLUBS: AIS 2001/02-2002/03; Townsville Fire 2003/04-2005/06; Adelaide Lightning 2006/07-2007/08; Bendigo Spirit 2008/09-2009/10; Dandenong Rangers 2010/11; Sydney Uni Flames 2011/12-Current
WNBL CHAMPIONSHIPS: Adelaide Lightning 2007/08
WNBL CAREER NOTES: Lauren made her debut with the Sydney Uni Flames in 2011/12, averaging 8.9 points amd 5.4 rebounds per game. Lauren played one season for the Dandenong Rangers in 2010/11 playing in all 23 games including one final. She averaged 4.8 points and 2.6 rebounds in the regular season. In season 2009/10 Lauren played in all 23 games for the Spirit. She averaged 11.1 points and 4.3 rebounds per game; In the 2008/09 season Lauren signed with Bendigo and averaged a career best 11.3 points and added 4.8 rebounds and 1.1 blocks per game.King was part of the WNBL Championship winning Adelaide Lightning team in the 2007/08 season when she averaged 3.1 points and 1.6 rebounds. King scored 181 points at an 8.6 per game average in 2006/07. She also clocked 27 minutes per game as well as 3.1 rebounds and 1.1 assists and made two finals appearances. She averaged 7.7 points per game in her 53 games with Townsville, highlighted by averaging 8.8 points and 6.1 rebounds in the 2004/05 season after playing just nine games the year before due to a knee injury. She also scored 118 points for the AIS in season 2002/03.
INTERNATIONAL CAREER NOTES: 2007 World University Games (Bangkok), 2005 World University Games (Bronze)
GENERAL BASKETBALL NOTES: 2011 Lauren played and captained the Bendigo Lady Braves in the SEABL; 2010 Lauren spent the WNBL off-season playing in the SEABL for the Bendigo Lady Braves as well as Teaching Primary PE in Bendigo at Kennington PS; 2007 represented Australia at the World University Games in Bangkok; Bronze medallist at the 2005 World Uni Games in Turkey. Attended the All-Australian Camp in 2000, 2001 and 2002. Represented NSW Country at Australian National Junior Championships in the U16 and U18 level.
PERSONAL INFORMATION: Lauren is the eldest of four children with two sisters and one brother. She loves watching movies in her spare time and last summer she learned to surf. She really loves the beach and values her family and friends much more than any possessions. Her most memorable sporting moment is winning a WNBL championship with Adelaide.
COACH'S COMMENT: We are really looking for a break out year from Lauren in her second season with the Flames. She is a great calming influence on the group and has an ability to take over a game offensively with her inside/outside game. She will also provide defensive cover on the oppositions best players.
Season Statistics

2PT
3PT
FT
Rebounds
M
MIN
2PM-A
1st Half H.S
3PM-A
3PT
%
FTM-A
FT %
TOT
AST
PTS
Season
17
10/12/2011
51 - 112
45.5
23 - 39
18
- - Canberra
5.5
Career
245
16/01/2009
- - -
0.0
188 - 723
150
- - Bulleen
3.4
Previous Seasons

Competition
Season
M
MIN
2PM-A
1st Half H.S
3PM-A
3PT
%
FTM-A
FT %
PF
Total Pts
TOT
AST
PTS
2012/13
2013
24
19/10/2012
51 - 115
44.3
26 - 63
22
- - Bulleen
84.6
3.7
2011/12
2012
17
10/12/2011
51 - 112
45.5
23 - 39
18
- - Canberra
78.3
5.5
2010/11
2011
23
13/02/2011
- - -
0.0
15 - 38
14
- - Townsville
93.3
2.5
2009/10
2010
23
08/01/2010
- - -
0.0
19 - 115
16
- - Sydney
84.2
4.3
2008/09
2009
23
16/01/2009
- - -
0.0
20 - 119
15
- - Bulleen
75.0
4.8
2007/08
2008
23
24/11/2007
- - -
0.0
4 - 27
3
- - Bendigo
75.0
1.6
2006/07
2007
23
04/11/2006
- - -
0.0
19 - 89
16
- - Dandenong
84.2
2.9
2005/06
2006
21
02/12/2005
- - -
0.0
20 - 81
18
- - AIS
90.0
3.0
2004/05
2005
21
04/12/2004
- - -
0.0
23 - 59
17
- - Bulleen
73.9
6.1
2003/04
2004
11
14/11/2003
- - -
0.0
8 - 13
4
- - West Coast
50.0
2.4
2002/03
2003
17
02/11/2002
- - -
0.0
11 - 70
7
- - Bulleen
63.6
3.2
2001/02
2002
19
23/11/2001
- - -
0.0
- - 10
- - Dandenong
0.0
0.8