Season Statistics
PPG


RPG


APG
4.0
FG%

Player Profile
Chelsea Aubry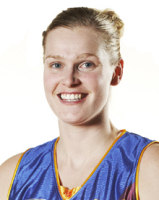 PERSONAL: DOB 27/06/1984; HEIGHT: 188cm
POSITION: Forward/Centre
JUNIOR ASSOCIATION: Grand River Collegiate Institute (Canada)
FIRST PLAYED WNBL: 2009/10 Bendigo Spirit
WNBL CLUBS: Bendigo 2009/10-Current
WNBL CHAMPIONSHIPS: Nil
WNBL CAREER NOTES: Chelsea continued her amazing run of 69 consecutive games for the Spirit in season 2011/12, averaging 6.7 points and 4 rebounds per game. Chelsea played in all 22 regular season games for the Spirit in 2010/11 and averaged 9.5 points and 5.6 rebounds per game. She also played in both finals for the Spirit last season.In her debut season in 2009/10, Chelsea averaged 12 points, 4.3 rebounds and 1 assist per regular season game. In the 2009/10 playoffs she had 5 points and 4 rebounds. She received Bendigo's Players Award for her standout performances during the season and the way the she quickly settled into her new surroundings. She was also Bendigo's first import player.
INTERNATIONAL CAREER NOTES: Chelsea has represented her native Canada since she was selected in the U20 side in 2002 and has gone on to play in the 2003 World University Games Team and the Senior National Team, 2006 FIBA World Championship, 2010 FIBA World Championship and the 2012 London Olympic Games.
GENERAL BASKETBALL CAREER NOTES: 2011 Chelsea played with the Geelong Supercats in the SEABL before returning to Canadian National team duties; 2010 Chelsea represented Canada at the 2010 FIBA Women's World Championship;She represented Canada at the 2003 World University Games and 2006 FIBA World Championship where she was a starter for the team and averaged 4.4 points and 3.4 rebounds in 8 games; Chelsea had a successful college career at the University of Nebraska and has been a member of the Canadian Senior National Team since 2002.

PERSONAL COMMENTS: One of my favourite sweets I enjoy when I live in Australia is Allen's Lollies.
Season Statistics

2PT
3PT
FT
Rebounds
M
MIN
2PM-A
1st Half H.S
3PM-A
3PT
%
FTM-A
FT %
TOT
AST
PTS
Season
22
22/10/2011
40 - 78
51.3
30 - 36
26
- - West Coast
4.0
Career
95
30/01/2010
- - -
0.0
134 - 266
107
- - Bulleen
4.5
Previous Seasons

Competition
Season
M
MIN
2PM-A
1st Half H.S
3PM-A
3PT
%
FTM-A
FT %
PF
Total Pts
TOT
AST
PTS
2012/13
2013
26
13/01/2013
49 - 111
44.1
24 - 53
19
- - Logan
79.2
4.2
2011/12
2012
22
22/10/2011
40 - 78
51.3
30 - 36
26
- - West Coast
86.7
4.0
2010/11
2011
24
12/12/2010
- - -
0.0
24 - 89
18
- - Adelaide
75.0
5.5
2009/10
2010
23
30/01/2010
- - -
0.0
56 - 88
44
- - Bulleen
78.6
4.3