Season Statistics
PPG


RPG


APG
2.4
FG%

Player Profile
Gemma Kerr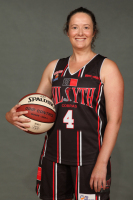 PERSONAL:
NICKNAME: Gem
NUMBER: 4
BORN: 02/02/1983
HEIGHT: 172cm
POSITION: Guard
CAREER:
JUNIOR CLUB: Shepparten Demons / Shepparten Gaters / Kilsyth Cobras
YEARS IN SEABL: Twelve (2001 - 2012)
CAREER HIGHLIGHTS: State Titles with Vic Country U/18s, U14 Club Championships, U18 Champonships for Kilsyth, 2008 SEABL Womens Championship.
GET TO KNOW GEMMA KERR:
FOOD: Love all food! (But love, love seafood)
BASKETBALL MOMENT: 2008 SEABL Title
SPORTING HERO: Michael Jordan
SPORTING TEAM: All Blacks, Hawthorn
FAVOURITE STADIUM TO PLAY IN: The Snake Pit (Hugh McMenamin Court)
TEAMMATE I WOULD LEAST LIKE TO ROOM WITH: As long as they shower I don't care!
IF I COULD HAVE DINNER WITH ANY THREE PEOPLE (PAST, PRESENT OR FUTURE) THEY WOULD BE: Dan Carter (NZ All Blacks Player), Michael Jordan, Channing Tatum or Alex O'Loughlin - But either way if I could surround myself with beautiful men I'd be happy!
GEMMA KERR IS PROUDLY SPONSORED BY SOUTHERN CROSS TECHNOLOGIES
Season Statistics

2PT
3PT
FT
Rebounds
M
MIN
2PM-A
1st Half H.S
3PM-A
3PT
%
FTM-A
FT %
TOT
AST
PTS
Season
20
03/07/2010
34 - 80
42.5
41 - 68
27
- - KNOX
2.4
Career
260
17/07/2005
- - -
0.0
516 - 964
332
- - LAUNCESTON
3.1
Previous Seasons

Competition
Season
M
MIN
2PM-A
1st Half H.S
3PM-A
3PT
%
FTM-A
FT %
PF
Total Pts
TOT
AST
PTS
SEABL WOMEN (2013)
2013
10
04/05/2013
21 - 56
37.5
19 - 25
10
- - HOBART
52.6
2.7
SEABL WOMEN (2012)
2012
28
26/05/2012
71 - 193
36.8
56 - 97
41
- - ALBURY WODONGA
73.2
2.8
SEABL WOMEN (2010)
2010
20
03/07/2010
34 - 80
42.5
41 - 68
27
- - KNOX
65.9
2.4
SEABL WOMEN (2009)
2009
15
10/05/2009
- - -
0.0
31 - 68
23
- - BENDIGO
74.2
4.7
SEABL WOMEN (2008)
2008
27
10/05/2008
- - -
0.0
92 - 123
60
- - BALLARAT
65.2
4.6
SEABL WOMEN (2007)
2007
27
21/07/2007
- - -
0.0
58 - 139
30
- - ALBURY WODONGA
51.7
3.8
SEABL WOMEN (2006)
2006
24
18/06/2006
- - -
0.0
66 - 103
36
- - FRANKSTON
54.5
4.0
SEABL WOMEN (2005)
2005
20
17/07/2005
- - -
0.0
53 - 123
34
- - LAUNCESTON
64.2
3.8
SEABL WOMEN (2004)
2004
21
22/05/2004
- - -
0.0
28 - 66
20
- - LAUNCESTON
71.4
3.0
SEABL WOMEN (2003)
2003
23
20/07/2003
- - -
0.0
18 - 45
12
- - KNOX
66.7
2.1
ABA - SOUTH/EAST WOMEN (2001)
2001
20
13/07/2001
- - -
0.0
16 - 32
10
- - PENRITH
62.5
1.9