Season Statistics
PPG
10.3
RPG
4.2
APG
2.1
FG%
38.8
Player Profile
Matt O'Hea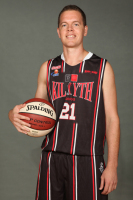 PERSONAL:
NICKNAME: Mad Dog
NUMBER: 21
BORN: 24/08/1982
HEIGHT: 196cm
POSITION: Shooting Guard
CAREER:
JUNIOR CLUB: Nunawading Spectres
FIRST PLAYED SEABL: 2000 (Nunawading Spectres)
CAREER HIGHLIGHTS: Kilsyth Cobras 2011 MVP, Kilsyth Cobras Captain 2012
GET TO KNOW MATT O'HEA:
FOOD: Chicken
BASKETBALL MOMENT: All the big wins on the road and singing the team song afterwards.
SPORTING HERO: Dirk
SPORTING TEAM: Hawthorn Hawks
FAVOURITE STADIUM TO PLAY IN: Other than Kilsyth, Geelong
TEAMMATE I WOULD LEAST LIKE TO ROOM WITH: Dave Moore - He has a lot to say.
IF I COULD HAVE DINNER WITH ANY THREE PEOPLE (PAST, PRESENT OR FUTURE) THEY WOULD BE: Michael Jordan, Louis C.K. & Larry Bird.
MATT O'HEA IS PROUDLY SPONSORED BY INDUSTRIAL ORGANICS
Season Statistics

FG
3PT
FT
Rebounds
M
FGM-A
FG%
3PM-A
3P%
FTM-A
FT%
TOT
AST
PTS
Season
27
97 - 250
38.8
50 - 134
37.3
34 - 43
79.1
4.2
2.1
10.3
Career
267
1082 - 2490
43.5
412 - 1051
39.2
481 - 598
80.4
3.6
2.2
11.4
Game Log

| Date/Time | Opposition | Min | FGM - FGA | 3PM - 3PA | FTM - FTA | OR | DR | TR | AS | ST | BL | TO | PFS | Pts |
| --- | --- | --- | --- | --- | --- | --- | --- | --- | --- | --- | --- | --- | --- | --- |
| 18 Mar | MTG | 22:42 | 1 - 7 | 0 - 1 | 0 | 0 | 1 | 1 | 2 | 0 | 0 | 0 | 3 | 2 |
| 24 Mar | BAL | 27:44 | 6 - 11 | 1 - 2 | 0 | 0 | 3 | 3 | 1 | 1 | 0 | 0 | 1 | 13 |
| 31 Mar | KNX | 21:58 | 3 - 9 | 0 - 1 | 0 | 1 | 3 | 4 | 1 | 0 | 0 | 3 | 5 | 6 |
| 1 Apr | SAN | 33:11 | 2 - 7 | 0 - 2 | 2 - 2 | 0 | 6 | 6 | 0 | 2 | 0 | 5 | 2 | 6 |
| 14 Apr | NUN | 31:43 | 5 - 12 | 2 - 5 | 1 - 2 | 1 | 4 | 5 | 2 | 0 | 0 | 1 | 1 | 13 |
| 20 Apr | HOB | 33:48 | 2 - 5 | 2 - 5 | 1 - 2 | 0 | 2 | 2 | 0 | 1 | 0 | 5 | 4 | 7 |
| 21 Apr | NWT | 31:51 | 4 - 8 | 2 - 5 | 1 - 2 | 1 | 4 | 5 | 2 | 0 | 1 | 0 | 4 | 11 |
| 29 Apr | BEN | 24:08 | 2 - 5 | 1 - 3 | 0 | 0 | 3 | 3 | 2 | 0 | 0 | 2 | 1 | 5 |
| 12 May | FRA | 21:35 | 1 - 4 | 1 - 4 | 0 | 1 | 1 | 2 | 1 | 0 | 0 | 1 | 1 | 3 |
| 19 May | CAN | 21:38 | 1 - 7 | 0 - 4 | 0 | 0 | 3 | 3 | 2 | 0 | 1 | 2 | 2 | 2 |
| 20 May | SAN | 36:39 | 2 - 13 | 0 - 5 | 5 - 6 | 2 | 7 | 9 | 3 | 4 | 0 | 1 | 2 | 9 |
| 26 May | ALB | 32:23 | 6 - 10 | 4 - 7 | 0 | 0 | 1 | 1 | 2 | 3 | 0 | 4 | 1 | 16 |
| 27 May | BEN | 34:04 | 5 - 9 | 3 - 5 | 5 - 6 | 1 | 2 | 3 | 4 | 0 | 0 | 3 | 2 | 18 |
| 2 Jun | BAL | 33:06 | 5 - 14 | 4 - 10 | 2 - 2 | 0 | 6 | 6 | 1 | 0 | 0 | 2 | 4 | 16 |
| 3 Jun | DAN | 29:31 | 2 - 7 | 2 - 3 | 2 - 2 | 0 | 3 | 3 | 0 | 2 | 1 | 3 | 2 | 8 |
| 16 Jun | HOB | 34:17 | 4 - 8 | 2 - 4 | 2 - 2 | 3 | 4 | 7 | 7 | 2 | 0 | 3 | 3 | 12 |
| 24 Jun | FRA | 36:33 | 2 - 6 | 1 - 4 | 0 | 0 | 2 | 2 | 2 | 1 | 0 | 2 | 1 | 5 |
| 30 Jun | DAN | 35:41 | 4 - 12 | 1 - 6 | 1 - 2 | 1 | 6 | 7 | 4 | 0 | 0 | 1 | 2 | 10 |
| 7 Jul | NWT | 45:00 | 3 - 13 | 1 - 8 | 2 - 2 | 1 | 8 | 9 | 4 | 2 | 0 | 1 | 3 | 9 |
| 13 Jul | GEE | 35:27 | 3 - 11 | 2 - 7 | 2 - 2 | 2 | 6 | 8 | 1 | 0 | 0 | 3 | 2 | 10 |
| 14 Jul | BRI | 19:26 | 4 - 10 | 2 - 5 | 2 - 2 | 0 | 1 | 1 | 1 | 1 | 0 | 1 | 3 | 12 |
| 20 Jul | MTG | 31:54 | 3 - 7 | 2 - 4 | 5 - 6 | 0 | 3 | 3 | 1 | 0 | 1 | 4 | 1 | 13 |
| 21 Jul | KNX | 35:56 | 5 - 15 | 3 - 9 | 0 | 0 | 2 | 2 | 1 | 0 | 0 | 1 | 2 | 13 |
| 28 Jul | NUN | 33:13 | 5 - 9 | 2 - 4 | 0 - 2 | 0 | 2 | 2 | 3 | 1 | 0 | 1 | 2 | 12 |
| 29 Jul | GEE | 35:53 | 8 - 11 | 7 - 8 | 1 - 1 | 1 | 6 | 7 | 2 | 1 | 1 | 1 | 4 | 24 |
| 4 Aug | CAN | 33:56 | 8 - 13 | 4 - 7 | 0 | 1 | 5 | 6 | 2 | 0 | 0 | 2 | 3 | 20 |
| 11 Aug | BRI | 32:24 | 1 - 7 | 1 - 6 | 0 | 1 | 3 | 4 | 5 | 2 | 0 | 0 | 1 | 3 |
Previous Seasons

| Competition | Season | M | FGM-A | FG% | 3PM-A | 3P% | FTM-A | FT% | PFS | Pts | TOT | AST | PTS |
| --- | --- | --- | --- | --- | --- | --- | --- | --- | --- | --- | --- | --- | --- |
| SEABL MEN (2013) | 2013 | 9 | 33 - 78 | 42.3 | 7 - 30 | 23.3 | 14 - 15 | 93.3 | 26 | 87 | 4.6 | 2.9 | 9.7 |
| SEABL MEN (2012) | 2012 | 27 | 97 - 250 | 38.8 | 50 - 134 | 37.3 | 34 - 43 | 79.1 | 62 | 278 | 4.2 | 2.1 | 10.3 |
| SEABL MEN (2011) | 2011 | 28 | 130 - 312 | 41.7 | 52 - 134 | 38.8 | 57 - 71 | 80.3 | 60 | 369 | 5.6 | 3.2 | 13.2 |
| SEABL MEN (2010) | 2010 | 28 | 141 - 335 | 42.1 | 53 - 140 | 37.9 | 57 - 65 | 87.7 | 66 | 392 | 3.8 | 4.0 | 14.0 |
| SEABL MEN (2006) | 2006 | 24 | 159 - 377 | 42.2 | 45 - 114 | 39.5 | 79 - 97 | 81.4 | 64 | 442 | 6.0 | 2.4 | 18.4 |
| SEABL MEN (2005) | 2005 | 25 | 169 - 361 | 46.8 | 68 - 142 | 47.9 | 109 - 131 | 83.2 | 67 | 515 | 5.0 | 2.8 | 20.6 |
| SEABL MEN (2004) | 2004 | 28 | 150 - 330 | 45.5 | 54 - 149 | 36.2 | 57 - 68 | 83.8 | 88 | 411 | 4.3 | 2.6 | 14.7 |
| SEABL MEN (2003) | 2003 | 26 | 116 - 252 | 46.0 | 46 - 113 | 40.7 | 48 - 66 | 72.7 | 59 | 326 | 3.5 | 2.7 | 12.5 |
| SEABL MEN (2002) | 2002 | 23 | 40 - 93 | 43.0 | 16 - 47 | 34.0 | 14 - 22 | 63.6 | 35 | 110 | 1.7 | 0.8 | 4.8 |
| ABA - SOUTH/EAST MEN (2001) | 2001 | 27 | 41 - 86 | 47.7 | 21 - 42 | 50.0 | 10 - 17 | 58.8 | 20 | 113 | 1.1 | 0.2 | 4.2 |
| ABA - SOUTH/EAST MEN (2000) | 2000 | 22 | 6 - 16 | 37.5 | - - 6 | 0.0 | 2 - 3 | 66.7 | 2 | 14 | 0.3 | 0.0 | 0.6 |