Season Statistics
PPG


RPG


APG
3.6
FG%

Player Profile
Kristi Harrower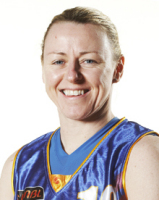 PERSONAL: DOB 4/03/1975; HEIGHT: 163cm
POSITION: Guard
JUNIOR ASSOCIATION: Bendigo (VIC)
FIRST PLAYED WNBL: 1991 Melbourne Tigers
WNBL CLUBS: Melbourne Tigers 1991; AIS 1992-93; Adelaide Lightning 1994; Melbourne Tigers 1998-1999/00; Bendigo Spirit 2007/08-Current
WNBL CHAMPIONSHIPS: Adelaide Lightning 1994
INTERNATIONAL CAREER NOTES: 2012 London Olympic Games (Bronze); 2010 FIBA World Championship; 2008 Beijing Olympic Games (Silver), 2006 FIBA World Championship (Gold), 2004 Athens Olympic Games (Silver), 2002 FIBA World Championship (Bronze), 2000 Sydney Olympic Games (Silver), 1998 FIBA World Championship, 1993 FIBA Youth World Championships (Gold).
WNBL CAREER NOTES: The 2012/13 season saw Harrower again produce another consistent campaign, averaging 13.7 points, 3.6 rebounds and 4.1 assists per game. In 2010/11 Kristi helped guide the Spirit to the Preliminary Final; she played in 20 regular season games and averaged 13.1 points, 5.3 rebounds and 4.9 assists per game. In two finals Kristi averaged 16.5 points and 5.5 assists per game. Kristi was also named WNBL Player of the Week in Round 10;Kristi had a stellar year in 2009/10 season and was named the WNBL Most Valuable Player. After the regular season she was first in assists per game (5.0), second in scoring (23.8 points per game), 3rd in 3-point percentage (40.0%), 4th in foul shot percentage (83.4%), 7th in defensive rebounds (5.0) and 10th in field goal percentage (48.0%), she also averaged a total of 6.5 rebounds per game. She was also named in the WNBL All-Star Five, and the Bendigo MVP. In the 2008/09 season, she was again named in the WNBL All-Star Five after leading Bendigo to the finals in just their second season in the league; she was also named in the All-Star Five in the 1997, 1998, 1998/99 and 1999/00 seasons. At the end of the regular season she was amongst the top ten players in Foul Shot Percentage, 3-Pt Percentage, Field Goal Percentage, Steals, Points Per Game (3rd), and she led the competition in assists.
GENERAL BASKETBALL NOTES: Kristi farewelled international basketball in 2012, winning Bronze with the Opals at the 2012 London Olympic Games. Kristi was part of the Opals 2010 World Championship team; In 2009 Kristi returned to the WNBA and made it to the Western Conference Finals with the Los Angeles Sparks before being knocked out of the playoffs; Kristi was awarded an AIS scholarship in 1992 and has gone on to represent Australia in three Olympic Games (2000 Sydney, 2004 Athens and 2008 Beijing) for three Silver medals, as well as being a member of the 2006 World Champion Opals team. Kristi has played in Russia, Germany, France and the United States and won the 2007 French league title with USVO Valenciennes.
PERSONAL INFORMATION: Loves spending time with family, her husband Aaron and her two dogs. Kristi enjoys being the General Manager for the Bendigo Spirit. Kristi was lucky enough to meet Halle Berry twice while playing for the LA Sparks in the WNBA.
Season Statistics

2PT
3PT
FT
Rebounds
M
MIN
2PM-A
1st Half H.S
3PM-A
3PT
%
FTM-A
FT %
TOT
AST
PTS
Season
21
04/02/2012
74 - 155
47.7
49 - 108
35
- - Adelaide
3.6
Career
294
07/02/2010
- - -
0.0
978 - 1355
714
- - West Coast
4.5
Previous Seasons

Competition
Season
M
MIN
2PM-A
1st Half H.S
3PM-A
3PT
%
FTM-A
FT %
PF
Total Pts
TOT
AST
PTS
2012/13
2013
26
16/11/2012
105 - 212
49.5
104 - 113
83
- - Sydney
79.8
5.5
2011/12
2012
21
04/02/2012
74 - 155
47.7
49 - 108
35
- - Adelaide
71.4
3.6
2010/11
2011
21
05/03/2011
- - -
0.0
65 - 113
53
- - Canberra
81.5
5.4
2009/10
2010
23
07/02/2010
- - -
0.0
152 - 113
125
- - West Coast
82.2
6.3
2008/09
2009
20
17/10/2008
- - -
0.0
85 - 101
68
- - Dandenong
80.0
5.5
2007/08
2008
1
06/10/2007
- - -
0.0
2 - 6
2
- - Dandenong
100.0
11.0
1999/00
2000
21
20/11/1999
- - -
0.0
72 - 119
58
- - Canberra
80.6
4.8
1998/99
1999
22
19/02/1999
- - -
0.0
95 - 110
69
- - Dandenong
72.6
5.2
1998
1998
12
05/04/1998
- - -
0.0
40 - 88
26
- - Dandenong
65.0
4.5
1997
1997
19
15/08/1997
- - -
0.0
69 - 119
41
- - AIS
59.4
5.3
1996
1996
18
31/05/1996
- - -
0.0
63 - 92
47
- - Tassie
74.6
4.7
1995
1995
20
26/08/1995
- - -
0.0
47 - 69
28
- - Sydney
59.6
3.5
1994
1994
20
28/05/1994
- - -
0.0
49 - 51
32
- - Dandenong
65.3
3.1
1993
1993
18
14/08/1993
- - -
0.0
46 - 70
25
- - West Coast
54.3
4.1
1992
1992
20
22/08/1992
- - -
0.0
34 - 73
17
- - Canberra
50.0
3.6
1991
1991
12
10/05/1991
- - -
0.0
6 - 10
5
- - Noarlunga
83.3
0.3