Season Outlines
2012 Season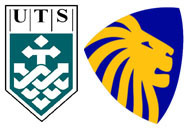 UTSSU have a reasonably strong outfit this year, with the return of many past players and the addition of some new faces. Artem Ipatyev, Stuart Maycock, Marc Carroll and Jeff Skinner all return to AVL after several seasons off. Assistant Coach Chris Barton joins Mark Munter in what will no doubt be a strong and exciting competition.
The squad has been training twice a week for the past three months and has a great deal more depth than in previous years. There has been a lot of competition for spots on court and many of last year's V-League squad are finding it tough to make the starting line-up this year.
Congratulations to Arash Dosanjh, who was recently selected in the AIS squad. His selection for the AIS has meant a re-shuffle of players, but we wish him well.
Thanks must also go out to Jo Kelly, who has done an amazing job in sorting everything out for MAVL including flights, accommodation, correspondence etc, etc.