Season Statistics
PPG


RPG


APG
1.6
FG%

Player Profile
Amelia Todhunter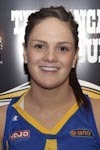 PERSONAL: DOB 21/05/1988; HEIGHT: 166cm
POSITION: Guard
JUNIOR ASSOCIATION: Albury (NSW)
FIRST PLAYED WNBL: 2007/08 Dandenong Rangers
WNBL CLUBS: Dandenong Rangers 2007/08-2009/10; Bulleen Boomers 2010/11-2011/12; West Coast Waves 2012/13

WNBL CHAMPIONSHIPS: Bulleen Boomers 2010/11
WNBL CAREER NOTES: In her second season with Bulleen, Amelia played 20 games including two finals. Amelia joined the Bulleen Boomers as season 2010/11 tipped off in the role of backup point guard. She played in 19 regular season games and averaged 2.8 points and 1.5 assists per game. She also played two finals, including the WNBL Grand Final where she played her role in the winning team; In the 2009/10 season Amelia battled lower leg injuries and only managed to hit the court for three games. She averaged 3.7 points, 2.3 rebounds and 1 assist. In the 2008/09 season Amelia averaged 2.9 points and 1.6 rebounds. In her debut season in 2007/08 Amelia played 12 games for Dandenong to average 1.8 points per game.
INTERNATIONAL CAREER NOTES:
GENERAL BASKETBALL CAREER NOTES: 2011 Amelia played with the Dandenong Rangers in the SEABL; 2010 Amelia captained the Dandenong Rangers SEABL women's team to a Championship; 2009 made the SEABL Finals; Represented the NSW State team at the U16, U18 and U20 Nationals, winning the U18 National Championship. She was named in the Victoria Schools State Team in 2006.
PERSONAL INFORMATION: Amelia has two older sisters and is originally from Albury NSW. She is studying Psychology and hopes to one day become a physiotherapist. Her most memorable sporting moment was winning the SEABL Championship 2010. Most people don't know that Amelia has some amazing dance moves and she shouldn't be challenged to a dance off!
COACH'S COMMENTS: Amelia is a hardworking and determined player that will be looking to take advantage of a new basketball opportunity. Amelia is a tough defender, is a great rebounder both ends of the court and can also score and create for others when required. Amelia has had a number of great basketball experiences around the WNBL and we will be calling on her experience to help lead our team this season.
Season Statistics

2PT
3PT
FT
Rebounds
M
MIN
2PM-A
1st Half H.S
3PM-A
3PT
%
FTM-A
FT %
TOT
AST
PTS
Season
11
28/01/2012
7 - 25
28.0
12 - 9
8
- - Bendigo
1.6
Career
92
02/12/2007
- - -
0.0
85 - 107
58
- - Bendigo
2.0
Previous Seasons

Competition
Season
M
MIN
2PM-A
1st Half H.S
3PM-A
3PT
%
FTM-A
FT %
PF
Total Pts
TOT
AST
PTS
2012/13
2013
24
25/01/2013
40 - 96
41.7
26 - 30
23
- - Townsville
88.5
3.5
2011/12
2012
11
28/01/2012
7 - 25
28.0
12 - 9
8
- - Bendigo
66.7
1.6
2010/11
2011
20
19/02/2011
- - -
0.0
18 - 20
9
- - Dandenong
50.0
1.4
2009/10
2010
3
10/10/2009
- - -
0.0
4 - 2
3
- - Sydney
75.0
2.3
2008/09
2009
22
08/11/2008
- - -
0.0
23 - 33
13
- - AIS
56.5
1.6
2007/08
2008
12
02/12/2007
- - -
0.0
2 - 13
2
- - Bendigo
100.0
0.7