Season Statistics
PPG


RPG


APG
1.2
FG%

Player Profile
Heather Oliver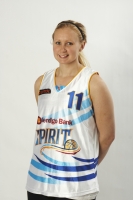 PERSONAL:
DOB 2/09/1987 HEIGHT: 178cm
POSITION: Guard
JUNIOR ASSOCIATION: Wangaratta
WNBL CLUBS: Bendigo Spirit
WNBL CAREER NOTES: 2010/11 was Heather's debut WNBL season, she played in 19 games for the Spirit; she averaged 4.3 points per game, recording a career high of 16 points in a victory against the Bulleen Boomers on 6 February 2011.
GENERAL BASKETBALL CAREER NOTES:
2011 Played for the Bendigo Lady Braves in the SEABL;Played College at Central Arizona Junior College for a year and then went to USC for 3 years graduating in May 2010. A junior from Wangaratta Warriors and also played U/16 & U/18 for Bulleen.
PERSONAL INORMATION:
Youngest daughter of Barry and Robyn. She has 2 older brothers Blair and Scott.
Finished a degree at USC in Psychology and is now looking to pursue a career in Sports Psychology.
COACH'S COMMENTS:
Heather is back for her second year with the Spirit in the WNBL. Heather has become an integral player of the Bendigo Spirit roster and we are looking for her to continue her good shooting form this season and to be more aggressive now that she has had a season with the team.
Season Statistics

2PT
3PT
FT
Rebounds
M
MIN
2PM-A
1st Half H.S
3PM-A
3PT
%
FTM-A
FT %
TOT
AST
PTS
Season
18
17/02/2012
13 - 25
52.0
4 - 28
4
- - Logan
1.2
Career
37
06/02/2011
- - -
0.0
23 - 59
22
- - Bulleen
1.2
Previous Seasons

Competition
Season
M
MIN
2PM-A
1st Half H.S
3PM-A
3PT
%
FTM-A
FT %
PF
Total Pts
TOT
AST
PTS
2011/12
2012
18
17/02/2012
13 - 25
52.0
4 - 28
4
- - Logan
100.0
1.2
2010/11
2011
19
06/02/2011
- - -
0.0
19 - 31
18
- - Bulleen
94.7
1.3