Season Statistics
PPG


RPG


APG
4.0
FG%

Player Profile
Melissa Marsh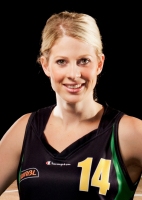 PERSONAL: DOB 28/05/1985; HEIGHT: 177cm
POSITION: Guard
JUNIOR ASSOCIATION: Willetton Tigers (WA)
FIRST PLAYED WNBL: 2001/02 Perth Lynx
WNBL CLUBS: Perth 2001/02-2004/05; Adelaide 2005/06; West Coast Waves 2006/07-Current (known as Perth 2006/7- 2009/10)

WNBL CHAMPIONSHIPS: Nil
WNBL CAREER NOTES: In a tough season for the Waves Melissa stood strong, averaging 10.7 points, 2.9 rebounds and 2.7 assists per game.Melissa played in 21 games for the Waves in season 2010/11 and averaged 13.9 points, 3.4 rebounds and 1.9 assists per game; In the 2009/10 season Melissa played 21 games, she averaged 12 points, 4 rebounds, 3 assists and 1.1 steals per game... In the 2008/09 season Melissa tallied a career high 247 points, 83 rebounds, 86 assists and 21 steals in 20 games to average 12.4 points, 4.2 rebounds, 4.3 assists and 1.1 steals... Melissa averaged 9.5 points and 3.2 rebounds per game in 2007/2008… She averaged 7.9 points, 2.9 rebounds and 2.6 assists per game for Perth in 2006/2007, shooting at 45% from the field… She also shot at 83% from the free-throw line... She played 23 games in 2005/2006 season with Adelaide, including two playoffs and averaged 4.7 points and 1.9 rebounds per game... Between 2001 and 2005 she played 67 games for Perth and averaged 7.1 points, 2.9 rebounds and 1.5 assists per game.
INTERNATIONAL CAREER NOTES:
GENERAL BASKETBALL NOTES: 2011 Melissa played for the Willetton Tigers in WA's SBL competition; 2010 Melissa played for the Willetton Tigers in WA's SBL competition; Melissa was a member of the Australian U21 team in 2002 and has represented WA Metro at U16, U18s and U20 level at the National Junior Championships... She attended the Australian Junior Camp in 1999, 2002 and 2003 and won the 2004 WA State League Championship… During 2008/2009 WNBL Season, Melissa played her 150th WNBL game.
PERSONAL INFORMATION: Her favourite basketball player is Penny Taylor and most admired athlete is Lance Armstrong. Her favourite movie is Dirty Dancing and she loves watching Packed to the Rafters and Fox Sports News. Her favourite food is salmon and her favourite music is the "oldies." Melissa always puts her left shoe on first, loves going out on the boat and enjoys spending time with her friends and family.
COACH'S COMMENTS: "Min" has become a real spiritual leader for this club over the past 10 years and will become the clubs most capped player this season. We will be utilizing Melissa's ability to score and shoot the ball on the offensive end and will also challenge her to defend some key players from game to game. The Waves team will also call on Melissa's leadership qualities and skills this year.
Season Statistics

2PT
3PT
FT
Rebounds
M
MIN
2PM-A
1st Half H.S
3PM-A
3PT
%
FTM-A
FT %
TOT
AST
PTS
Season
21
20/11/2009
- - -
0.0
24 - 121
17
- - Bulleen
4.0
Career
242
11/12/2004
- - -
0.0
349 - 897
251
- - Townsville
3.2
Previous Seasons

Competition
Season
M
MIN
2PM-A
1st Half H.S
3PM-A
3PT
%
FTM-A
FT %
PF
Total Pts
TOT
AST
PTS
2012/13
2013
24
27/10/2012
67 - 184
36.4
35 - 82
26
- - Adelaide
74.3
4.3
2011/12
2012
22
23/10/2011
70 - 191
36.6
35 - 100
24
- - Bulleen
68.6
2.9
2010/11
2011
21
12/11/2010
- - -
0.0
29 - 130
19
- - Sydney
65.5
3.4
2009/10
2010
21
20/11/2009
- - -
0.0
24 - 121
17
- - Bulleen
70.8
4.0
2008/09
2009
20
19/10/2008
- - -
0.0
47 - 85
34
- - Adelaide
72.3
4.2
2007/08
2008
22
17/10/2007
- - -
0.0
34 - 93
26
- - Bendigo
76.5
3.2
2006/07
2007
21
15/12/2006
- - -
0.0
24 - 43
20
- - Townsville
83.3
2.9
2005/06
2006
23
08/10/2005
- - -
0.0
24 - 37
16
- - Bulleen
66.7
1.9
2004/05
2005
21
11/12/2004
- - -
0.0
37 - 77
25
- - Townsville
67.6
3.4
2003/04
2004
21
13/12/2003
- - -
0.0
22 - 56
18
- - Canberra
81.8
2.7
2002/03
2003
19
09/11/2002
- - -
0.0
34 - 67
24
- - Dandenong
70.6
3.3
2001/02
2002
6
16/11/2001
- - -
0.0
4 - 3
2
- - Townsville
50.0
0.8
2000/01
2001
1
- - -
0.0
- - 3
- - -
0.0
2.0