Season Statistics
PPG


RPG


APG
7.5
FG%

Player Profile
Rachel Jarry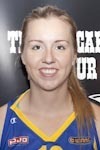 PERSONAL: DOB 6/12/1991; HEIGHT 185cm
POSITION: Forward
JUNIOR ASSOCIATION: Altona (VIC)
FIRST PLAYED WNBL: 2008/09 AIS

WNBL CHAMPIONSHIPS: Bulleen Boomers 2010/11

WNBL CLUBS: AIS 2008/09, Bulleen 2009/10-Current
WNBL CAREER NOTES: It was another highly productive season for Rachel, capped off by being named in the WNBL All Star Five. She averaged career-high 15.6 points, 7.5 rebounds, 2.7 assists per game. Rachel was a key member of Bulleen's WNBL Championship team in season 2010/11, playing in both finals; she also played in 20 regular season games averaging 14.1 points and 5.9 rebounds per game;After graduating the AIS in 2009, Rachel joined Bulleen in the 2009/10 season. Rachel averaged 10.8 points, 6.2 rebounds and 1.9 assists per game in the regular season, career highs in all three categories, her 2.6 offensive boards per game was the eighth best in the league. In her debut finals experience in the WNBL, Rachel averaged 7.5 points and 2.5 rebounds in two games. In her debut WNBL season in 2008/09 Rachel played 21 games for the AIS, averaging 10.5 points and 5.2 rebounds in 23 minutes per game.
INTERNATIONAL CAREER NOTES: 2012 London Olympic Games (Bronze); 2009 FIBA U19 World Championships.
GENERAL BASKETBALL NOTES: 2012 Rachel was a member of the Opals team that won Bronze at the 2012 London Olympic Games.2011 Rachel was drafted into the WNBA with the 18th overall pick by the Atlanta Dream, before being traded on draft day to the Minnesota Lynx; 2011 Rachel was named in the Australian Opals squad; Rachel was named League Most Valuable Player in the SEABL 2010 season;Rachel played for the Ballarat Lady Miners in SEABL in 2010 and was one of the leading scorers and rebounders in the league.Rachel was a member of the 2009 Gems team, and represented Australia at the 2009 FIBA U19 World Championship in Thailand, finishing fifth. In 2009 she won gold at the U20 National Championships with Victoria. She also represented Victoria at the U16 (2006), U18 (2007 and 2008) Nationals.
PERSONAL INFORMATION: Rachel has one sister, Alanna. She also has two dogs, Suzie and Bailey and is a self-confessed psycho St. Kilda supporter.
COACH'S COMMENTS: What a great story Rachel has been for the Boomers. From an undersized Post player to an Opals 3-type. Rachel burst onto the Olympic stage and announced herself to the World.
Season Statistics

2PT
3PT
FT
Rebounds
M
MIN
2PM-A
1st Half H.S
3PM-A
3PT
%
FTM-A
FT %
TOT
AST
PTS
Season
24
07/12/2011
127 - 299
42.5
96 - 58
64
- - Bendigo
7.5
Career
112
06/11/2010
- - -
0.0
464 - 179
314
- - Sydney
6.4
Previous Seasons

Competition
Season
M
MIN
2PM-A
1st Half H.S
3PM-A
3PT
%
FTM-A
FT %
PF
Total Pts
TOT
AST
PTS
2012/13
2013
24
20/10/2012
114 - 288
39.6
132 - 31
94
- - Canberra
71.2
7.2
2011/12
2012
24
07/12/2011
127 - 299
42.5
96 - 58
64
- - Bendigo
66.7
7.5
2010/11
2011
20
06/11/2010
- - -
0.0
64 - 39
48
- - Sydney
75.0
5.8
2009/10
2010
24
11/12/2009
- - -
0.0
85 - 34
56
- - Bendigo
65.9
5.9
2008/09
2009
20
10/01/2009
- - -
0.0
87 - 17
52
- - Bendigo
59.8
5.5