Season Statistics
PPG


RPG


APG
3.8
FG%

Player Profile
Zoe Harper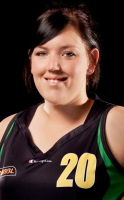 PERSONAL: DOB: 01/03/1988; HEIGHT: 191cm
POSITION: Centre
JUNIOR ASSOCIATION: Albany Basketball Association (NSW)
FIRST PLAYED WNBL: 2010/11 West Coast Waves
WNBL CLUBS: West Coast Waves 2010/11-Current
WNBL CHAMPIONSHIPS: Nil
WNBL CAREER NOTES: In her second WNBL season, Zoe played 19 games, averaging 4.2 points per game.2010/11 was Zoe's debut WNBL season. She played in all 22 games for the Waves and averaged 5.9 points and 6 rebounds per game, including a career-high 13 point performance against Townsville on 26 November 2010.
INTERNATIONAL CAREER NOTES:
GENERAL BASKETBALL NOTES: 2011 Zoe played for the Willetton Tigers in WA's SBL competition; 2010 Zoe returned from a four year stint (2006-2010) playing NCAA Division 1 basketball with the University of Minnesota. She has also has won three championships with the Willetton Tigers in the SBL (2004, 2005, 2010). Zoe was a WA state metro representative for the U18 and U20's and a state country representative for U16's. In 2005, Zoe won the Female WABL Player of the Year Award and was selected to the Gems U19 Australian Squad. Zoe also participated in the 2003 and 2005 All-Australian Camps.
PERSONAL INFORMATION: Zoe's favourite colour is purple and her favourite food is spaghetti bolognaise. Her favourite things to watch on TV are CSI, NCIS and when she was in America, loved the BET TV channel. Zoe counts Denzel Washington and Johnny Depp as her favourite actors and Charlize Theron and Julia Roberts as her favourite actresses. Her absolute favourite NBA player is Dwight Howard. When she isn't training or working out for basketball, Zoe likes going shopping, hanging out with friends and family and going to the movies.
COACH'S COMMENTS: Zoe will play an important role in the group this year and now that she has had a good taste of the WNBL, big things are expected of her. Zoe's inside presence and strength will be a great asset both ends of the floor and she will encumber some big match up responsibilities this season.
Season Statistics

2PT
3PT
FT
Rebounds
M
MIN
2PM-A
1st Half H.S
3PM-A
3PT
%
FTM-A
FT %
TOT
AST
PTS
Season
19
30/10/2011
32 - 96
33.3
22 - 2
16
- - Dandenong
3.8
Career
44
26/11/2010
- - -
0.0
70 - 5
51
- - Townsville
4.8
Previous Seasons

Competition
Season
M
MIN
2PM-A
1st Half H.S
3PM-A
3PT
%
FTM-A
FT %
PF
Total Pts
TOT
AST
PTS
2012/13
2013
2
27/10/2012
4 - 5
80.0
1 - -
- - Adelaide
0.0
3.0
2011/12
2012
19
30/10/2011
32 - 96
33.3
22 - 2
16
- - Dandenong
72.7
3.8
2010/11
2011
22
26/11/2010
- - -
0.0
45 - 3
33
- - Townsville
73.3
6.0
2000/01
2001
1
20/01/2001
- - -
0.0
2 - -
2
- - Melbourne
100.0
1.0