home page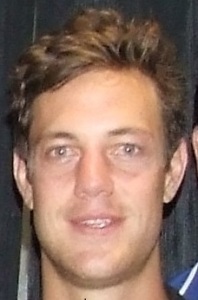 BAILEY'S BOMBERS BLITZ BLOODS
Celebrations are continuing at the George Bates Reserve after the Northern Bombers (YYN) broke a 25 game hoodoo which Trafalgar had held over them. It was in 2002 that YYN last defeated Trafalgar (April 20) when YYN kicked 12-12 to 10-4 to win by 20 points. The closest that YYN came within that time was in 2010 when Trafalgar scraped in by 2 points. Tom Hutton finished with 4 goals (all after half time) while for Trafalgar Rhys Holsworth booted 3 in the last quarter. (Pictured right Adam Bailey, YYN Capt/coach.)
Mirboo North went to the top of the ladder after their 96 point win over Boolarra. Clancy Bennett, returning from the SANFL was outstanding while up forward Jonathon Burge added another 4 goals to his tally as Mirboo North won 20-14 to 5-8
Yinnar led all the way with a consistent score-line, 7-7, 11-11 and finally 14-14 to beat Thorpdale 8-6. Yinnar's Tim Aitken with 5 goals went to the top of the leader board with 8. Llan Osman continued his good form with three for Thorpdale.
Morwell East with a six goal opening term were too quick for Hill End to run out winners 18-11 to 7-7. Nick Telerico and Lucas Towns both scored 4 for the East
Newborough broke the ice with a 46 point win over Yarragon but early quarters it was goal for goal as Yarragon pushed the Bulldogs. A 12 goal first term (Newborough 7/Yarragon 5) brought spectators alive as both forwards scored plenty. Chris Hancock finished with 5 and Chris Payne 4 for Newborough while Troy Lehman bagged 5 for the Panthers.
BIG MATCH THIS WEEKEND (ANZAC WEEKEND)
The proposed re-match of the Grand Final between Mirboo North and Newborough will take place at Mirboo North on Sunday April 26th. (All matches at this stage will be on Sunday 26th) in lieu of Anzac Day on the 25th. Trafalgar and Thorpdale will feature in a special Anzac Day match with local reps from both RSL's in attendance.
SUPER RULES with GIPPSLAND TIGERS
What do you do when you have retired as a player? Play golf?, bowls?. Why not try "Super Rules" for over 47 1/2's. The Gippsland Tigers have been successful at this age group but still require more players for season 2015. Modified rules are played and there are many social activities involved plus if you are selected, interstate carnivals. There will be 11 matches this year, some could be under lights. All away matches by bus. The squad train Wednesday nights (6.30pm) at Stoddart Park in Traralgon. This year's coach is former Rosedaleplayer in Tim Ellan and further details can be obtained by ringing him on 0418 355076
INTERLEAGUE
Mid Gippsland will play the Warnambool FL at Morwell East on Saturday May 23rd. Appointed coach is former Trafalgar coach in Chris Kyriacou, training nights are set down for 29th April, 6/13/20 May. All MGFL players are eligible to be selected.
*************************
The updated MGFL constitition is now available to view under the 'administration' menu.