Home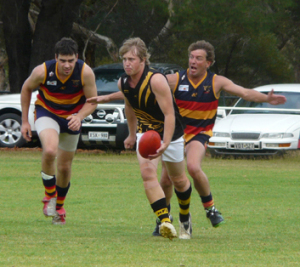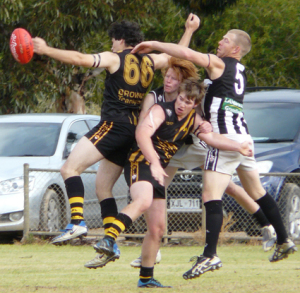 Welcome to the Mallee Football League

The Mallee Football League was formed in 1994 when the Lameroo & Districts Football League and the Murraylands Football League amalgamated.
There were 7 clubs involved with Karoonda Districts, Lameroo, Murrayville, Ngallo, Parilla / Geranium, Peake & Districts and Pinnaroo.
Parilla / Geranium went into recess in 1998 and Ngallo followed in 2001. Border Downs Tintinara joined the Mallee League in 2002 and there have been 6 clubs since that time.
Ken Box was elected Inaugural President with Trevor Coleman as Secretary.



Mallee League Football Preview 10/5/2014
BDT v Lameroo (Coonalpyn)
The match of the round will be at Coonalpyn where the 2 undefeated sides of 2014 face off for top spot on the ladder.
BDT have the skill & class of Josh Keller who is spending more time in defence early in 2014, Patrick Barrett has taken on the role of goal kicking midfielder & Lachlan Richardson to kick start the midfield with Bill Traeger a very good ruckman. Jarran Crabb is enjoying a good start to 2014.. Ben Hooper is a mobile half forward and after a quiet match last week will be keen to get back on the scoreboard and Chris Gregory can control centre half back. Thomas Caulfield adds depth to the midfield with Brett Todd & Chase Ferguson small forwards that will kick goals.
Lameroo have started 2014 in great form and the game plan set by coach Rodney Maynard si working well. Tom Caulfield is carrying the ruck duties & Hayden Thorpe a strong ball winning midfielder. Shaun Walker provides run and Shane Agelis will kick goals if given space. Andrew Hunt & Ricky Hunter are strong marking targets in attack with Matt Ridgway able to fill any position. Nicholas Johnson & Travis Brown have been good recruits in defence and Fraser Sampson is clever on a wing. Dillon Cabot came in last week and will further strengthen the midfield along with Josh Ridgway who can also push forward & kick goals.
Lameroo are looking solid and can account for BDT to take top spot on the ladder
Pinnaroo v Peake
Pinnaroo had a good win over Murrayville to open their account last week. Chad Nickolls has started well in ruck while Alex Keough would be close to the highest possession winner in the League. Jaimen Stringer has been amongst the best players along with Josh Sampson. Ty Bennetts can fill any role and is hard to contain. Peake would be disappointed with last week's loss and also have injury concerns over Gabe Phillips & Ryan Sargood. Patrick Gabb will win most ruck contests but needs to be more proactive around the ground and his duel with Chad Nickolls will be a clash of the giants. Michael Baker, Shane Heinrich & Darren Hare will all rotate through the midfield and use their pace to effect. Wade Saunders, Rick Piggott & Aish Simper are hardnosed midfielder / defender types with Michael Whitford in a key position. Trevor Rigney & Samuel Janetzki are dangerous deep in attack with Jason Dikkenberg playing at half forward.
Peake should bounce back with a win but they won't want to take an improving Pinnaroo lightly.
Murrayville v Karoonda
Murrayville host Karoonda with both sides looking for their first win of the season.Clint Gates has been in form for Murrayville while Michael Worsman may be back to Mail Medal form. Rian Crane has fitted in well after returning to the club and Kevin Wyatt will pick up possession wherever he plays. Todd Jones will have a great duel with Josh Rudiger in ruck while Clayton Sporn can hold down a key position. Jake Venning is a young player who uses his strength well and Keegan Keely is a strong recruit. Cheyne Cronin has built on his 2013 form and continues to play well. Corey Knight has started the year well while Jarred Graetz plays many roles and Jarred Woodward is showing he can play consistently at a high level. Josh Rudiger is having an influence in ruck while Danny Walker & Todd Boughen win possessions in the midfield. The defence is held firm with Andrew Smithson, Josh Rosenzweig & Eli Koch working well. Nick Zander & Luke Hocking filled the key forward positions well last week but they will need more goals from the midfield.
Murrayville at home may just edge out Karoonda